Deeply poetic, and rooted in her heritage, Julie Dash's work showcases extraordinary women from the past and present. A pioneering director, Dash places historical heroines—both known and unknown—front and center in her filmography. Her refreshing work places a lens on black women, and showcases them in a way that doesn't follow society's (or Hollywood's) rigid standards. Dash's women overcome obstacles, and exhibit a resilience and grace no matter the circumstances. She doesn't allow her leads to follow traditional narratives, in fact she allows them to follow a narrative of her own design.
The heart of Dash's work are the complex women that she paints a vivid picture of, both real and fictional. While she often explores the complex relationship of racial identity, at the same time she is a visionary that refuses to place her heroines in a box. Dash cites that her films were influenced by authors such as Toni Morrison, Alice Walker, and Toni Kay Bambara.
In an interview with Film Comment, she describes the kinds of stories she has been trying to tell since the beginning of her career. She mentions pitching a story of the African American women who served overseas during World War II, the Colored Conjurers (a family of magicians), and a black encryption specialist. Unfortunately, Hollywood executives were interested in the traditional racial narratives that had already been written. It doesn't seem like much has changed then, has it?
Dash's filmography is vast, as she has managed to involve herself in every aspect of the film industry. She is most known for her breakout, Daughters of the Dust, but she's ventured into television with work such as The Rosa Parks Story, Funny Valentines, Love Song, and two episodes of Queen Sugar in 2017. She also has an impressive list of music video and commercial credits to her name, which includes Coca Cola and GMC, to name a couple. Over the years, Dash has never stopped moving, and has continuously been working on screenplays, exhibitions, short films, and teaching at universities such as Morehouse College. Active for nearly 50 years, Julie Dash shows no signs of slowing down.
Dash emerged in the film community in the late sixties, migrating from New York City to Los Angeles in order to become a Fellow at the American Film Institute, then on to obtain her MFA in Film and Television Production from UCLA. Dash was one of the filmmakers part of the LA Rebellion, an era in filmmaking where black filmmakers shifted away from the Blaxpoitation era of the seventies, and used their films to combat stereotypes in the media of the time. Even though Dash was part of the movement in its later years, she along with filmmakers such as Larry Clark, Charles Burnett, and Haile Gerima redefined black cinema. They allowed for a different, more experimental perspective of the black experience.
The film that truly put Dash on the map was her 1982 short, Illusions. The film explores the lives of two black women as they try to navigate a tense, racially-charged Hollywood during World War II. Mignon Duprée is an executive assistant that passes for white. Ester is a singer whose voice is used to dub the voice of a white star. Illusions explores the concept of racial codes, as Mignon uses her position of power to forge new opportunities for people of color in the entertainment industry. Dismissed by some viewers as another Imitation of Life, Dash's film isn't rooted in shame; it's about fighting the system.
Nearly a decade later, Julie Dash would make history, and the industry would notice. Following its Sundance debut, Daughters of the Dust would be a film that broke new ground in the industry. In 1991, Julie Dash was the first African American female director to gain feature distribution in the United States. It's a sobering statistic, but it was Dash who paved the way for many of the directors who followed in her footsteps.
Dash would emerge during a crucial time in Black film history, as the 90s were a time where black male filmmakers were beginning to enjoy more opportunities, and pierce mainstream consciousness. Dash's filmmaking style is a feminine, quiet contrast to the violent, overtly sexual, and male-centered black films of the time. However, she didn't gain the same recognition from Hollywood that her peers did.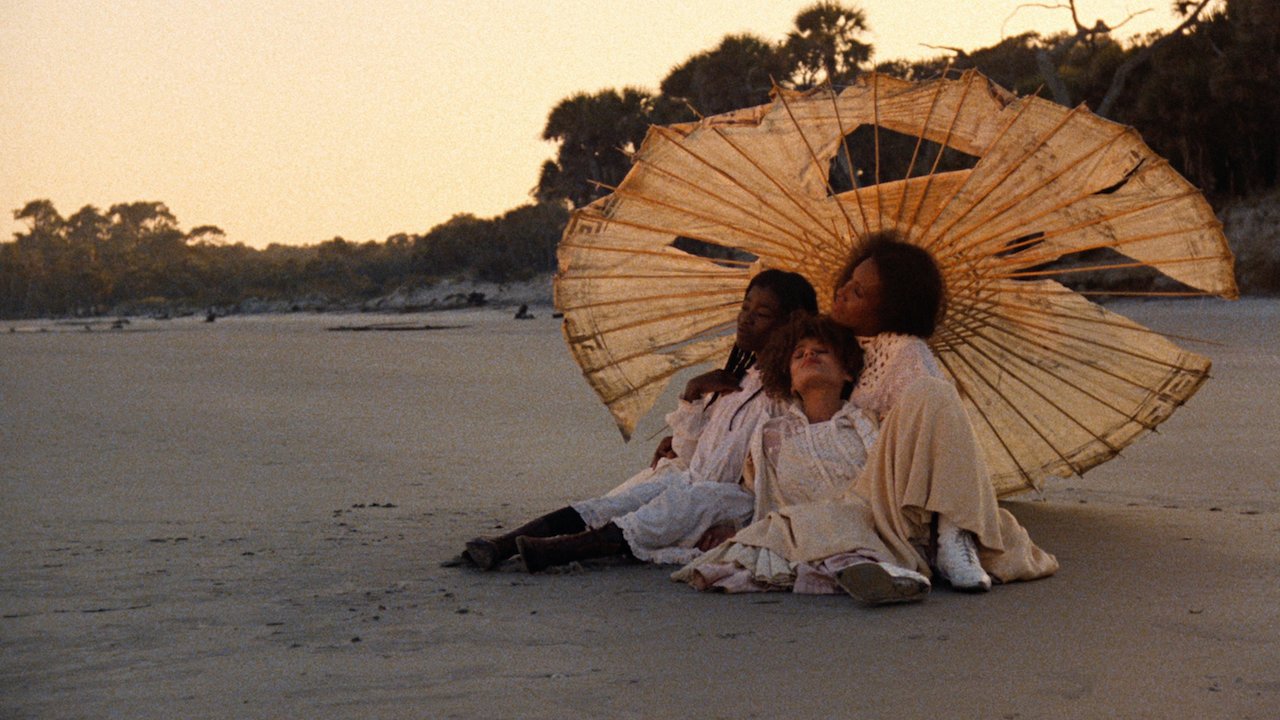 A riveting feature debut by the director, Daughters of the Dust travels to Dataw Island off of South Carolina, and follows three generations of Gullah-Geechee women, the Peazants, as they cling to their West African roots. Contemplating a trip to the Mainland for better opportunities, they grapple with leaving their cultural heritage behind on the island. Isolated, the Gullahs manage to retain the traditions from their African ancestors. Previously unseen, Daughters of the Dust is a period piece set at the turn of the 20th century. Draped in elegant Victorian attire, in a heavenly seascape, the film is dream-like, and surreal. It dives into a nook of history that had never been seen on screen before that time.
While the film established many "firsts," what's so special about it is that it refuses to follow the traditional narrative that so many other pieces follow. Daughters of the Dust is non-linear, mirroring the way in which mothers pass on stories to their daughters. The film's focus is strictly its lead women, refusing to fall to more mainstream racial narratives.
28 years after its premiere, Daughters of the Dust still retains its relevance. In 2004, it was inducted into the National Film Registry by the Library of Congress. After the release of Beyoncé's Lemonade, in which Dash's film was a major inspiration, Daughters of the Dust would pique the interest of a new generation.
Following the success of her feature debut, Dash would advance to television projects, music videos, and continue creating short films. Films such as Love Song, Funny Valentines, and Incognito were completely different genres of film that allowed for Dash to foray into new territory. In these films, she proved her versatility as a director.
The Rosa Parks Story was Dash's critically-acclaimed biopic that depicts Parks' work as civil rights activist, and the journey leading up to her rebellion. For the film, Dash was nominated for Outstanding Directorial Achievement in Movies for Television by the Directors Guild Awards. She was the first black woman to be be nominated in the category. Bassett was praised for her performance as Parks, earning an Emmy nomination for the actress, as well as an NAACP award for Outstanding Actress in a Television Movie.
With a plethora of short films and television movies under her belt, Dash is finally taking the helm of another feature film. In January 2019, it was announced that Dash will direct a biopic about civil rights activist Angela Davis. Dash is also currently developing a feature-length documentary entitled Travel Notes of a Geechee Girl, which follows the life and work of Vertamae Smart-Grosvenor, a journalist, actress, and culinary anthropologist. It sound like Dash has a lot on her plate, and we're hoping to see more of her work on the big screen soon.
Dash has a Vimeo channel where you can watch a couple of her short films such as Praise House, Relatives, Subway Stories: Sax Cantor Riff, and Four Women. Daughters of the Dust is now available to stream on Netflix in the US, and is also available on Kanopy. You can view her short film Illusions on Kanopy as well.